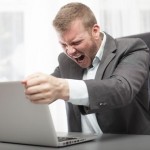 Date: March 12th, 2019
Did it ever happen to you that inappropriate venting of emotions complicated your carreer? Do your feelings get in the way when dealing with a customer, an internal client, a colleage in a team, a subordinate or your boss? Would you like to learn how to deal with it better?
Then come and we will introduce you to approaches that lead to success through agreement and appropriate self-assertion. 
You can apply via e-mail at info@tresconsulting.cz or by phone at no. + 420 732 159 734.